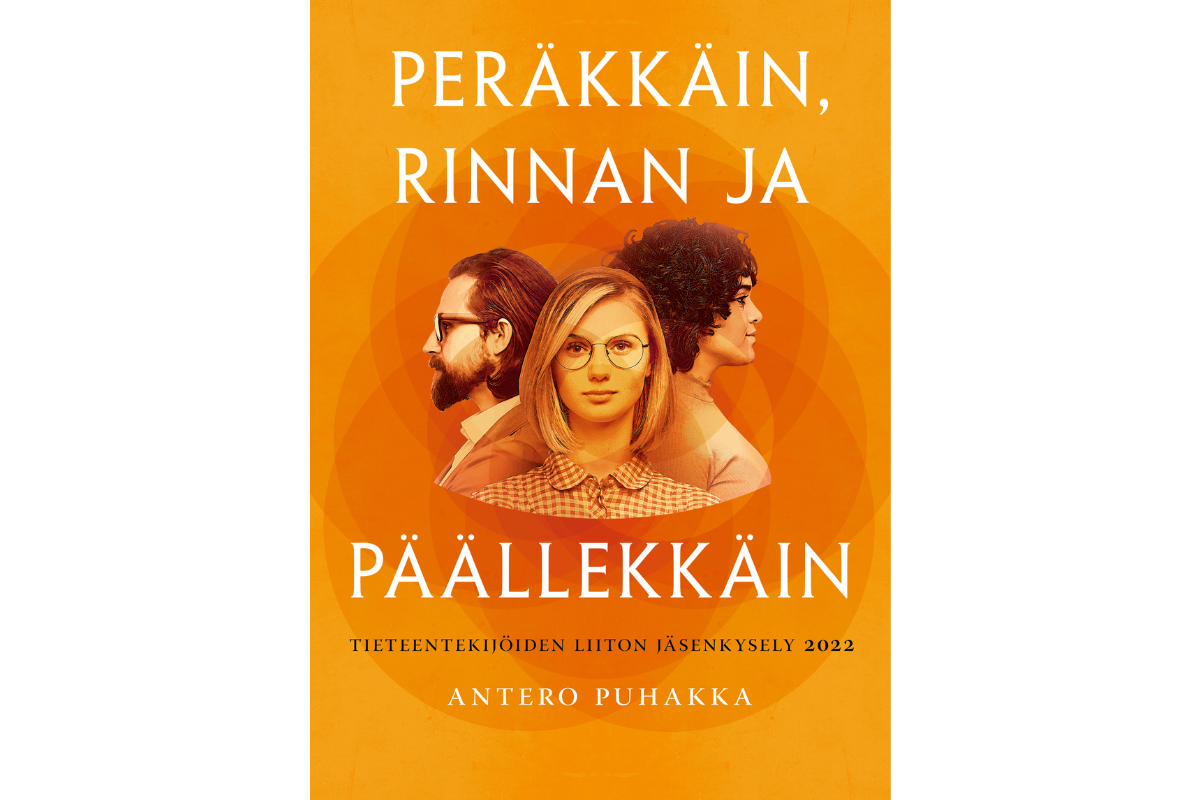 Research careers are overshadowed by uncertainty about the future and constant pressure to apply for funding. The Finnish Union of University Researchers and Teachers conducted its ninth union-wide member survey in November 2022.
The survey report, Consecutive, parallel and overlapping (Peräkkäin, rinnan ja päällekkäin in Finnish), is an apt description of the current fragmentation of research careers. The report was written by Antero Puhakka, D.Soc.Sc., of the University of Eastern Finland.
'Fixed-term employment remains regrettably common among academics, even though the member survey from 2022 indicated that the situation has developed in a slightly better direction. Just over half of the survey respondents reported having a permanent employment relationship, and the duration of the fixed-term employments at universities has lengthened somewhat. However, the prevalence of fixed-term employments and constant funding application rounds reflect the inherent problems still plaguing research careers, particularly when we consider that 67% of FUURT's members hold doctorates. We are still far from FUURT's goal and the European Commission's proposal for a new European Charter for Researchers that aim to ensure that a maximum of one third of an organisation's researchers would be in fixed-term employment relationships', states Antero Puhakka.
Fixed-term employments and uncertainty about the future worry researchers and teachers
It is clear from the member survey that researchers and teachers experience harmful work stress most often as the result of precisely the fixed-term nature of their employment, uncertainty about continued employment, and need to apply for funding. It is alarming that 49% of researchers, 52% of teachers and 31% of experts reported that, at the time of the survey, they were experiencing stress a great deal or to an extreme extent. Although the number of those who experienced an extreme level of stress has declined since the previous survey, the difference between universities and other employer sectors, in terms of experienced stress levels, has become more pronounced than ever before. When external pressures are placed on research, and at the same time there is no working time to conduct research, this creates a great burden.
'Research careers call for stability, and attractiveness could be increased by simply improving the working conditions and pay. We expect RDI investments and the doctoral education pilot to increase the duration of research funding and facilitate long-term research work, and, of course, to create new career opportunities for researchers in the private sector. The FUURT member surveys have repeatedly shown similar results for years, despite the existence of clear solutions for these problems', says Tero Karjalainen, Union President.
International researchers continue to face language and culture-related issues
The new member survey also examined the discrimination and problems international researchers are encountering, for example, with residence permit issues. The most common problems that international researchers face concern language and culture-related issues and uncertainty of livelihood. It is particularly worrisome that more than half of the international researchers from one survey to another have experienced insufficient knowledge of working conditions.
The number of problems related to residence permits for researchers has decreased in the member surveys over the years, but the figure still remains high. Respondents have been granted a residence permit an average of four times. Altogether 43% of researchers and teachers from somewhere other than EU/EEA countries have experienced problems with residence permits. As many as 70% of respondents feel that the residence permit process is expensive and more than half (52%) expressed that the processing times were too long.
'There is extensive talk about attracting international talent to Finland. However, our society and the university sector have a great deal of work to do to create a smoother process for international researchers to come and settle in Finland and the Finnish university world', Karjalainen points out.
Conducted every three years, the FUURT member survey endeavours to clarify, among other things, the education, employment relationships, pay, grant funding and working conditions of its membership. In addition to the standard questions, the surveys also contain questions on changing themes. This year's themes included residence permits, inappropriate treatment or discrimination in the work community, and questions concerning where work is being conducted. The survey was conducted in Finnish, Swedish and English using an online questionnaire, which was completed anonymously. The questionnaire was completed by 1,076 members (16% of the membership).
The survey report Consecutive, parallel and overlapping (Peräkkäin, rinnan ja päällekkäin)
Further information:
Antero Puhakka, D.Soc.Sc, +358 (0)400 646 382
Miia Ijäs-Idrobo, Senior Adviser, FUURT
+358 (0)207 589 622, miia.ijas(at)tieteentekijat.fi