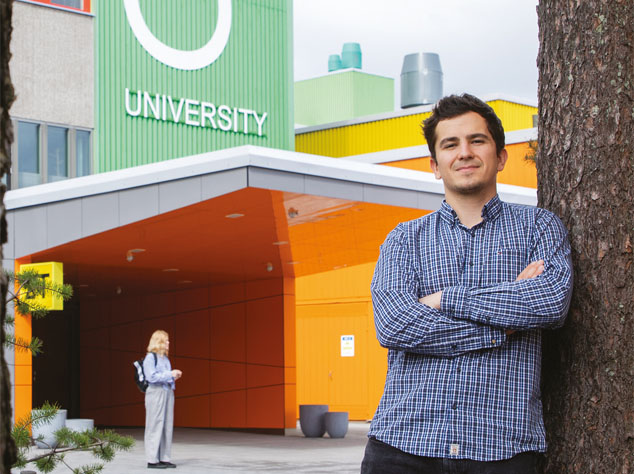 The Education Policy Report states that the number of international students in Finland should be tripled. That would mean over 20,000 new students.
"Having more international students sounds sensible", says Andrei Baraian, an IT student in Oulu.
"In my experience, people from different backgrounds create an atmosphere that really facilitates studying and coming up with ideas."
It is perhaps no surprise that the Romanian Baraian welcomes international students, being one himself. However, the Education Policy Report's stated goal of tripling the number of international students by the end of the decade does give him pause.
"Focusing on quantity sounds a bit odd. I hope they're not doing that at the expense of quality."
More study places are needed
Joanna Kumpula, Senior Specialist of International Student Recruitment at Tampere University confirms Baraian gets to the heart of the issue. She also finds the stated goal good on paper but wonders what it means in practice.
"The report talks about foreign students. But if a Finnish student has completed a bachelor's degree abroad, how are they actually different from a foreign applicant?" International master's programmes are also often thought to be in English, despite international students applying to Finnish and Swedish-language programmes as well."
According to the Ministry of Education and Culture's statistics, there were 10,698 international students at the Finnish universities in 2018. Tripling that number would mean over 20,000 extra students. In other words, equal to the current number of students in Tampere University.
The University of Helsinki's Director of Development Susanna Niinistö-Sivuranta questions whether it is even possible to add this many international students without it being at the expense of Finnish students.
"Allocations are not based on nationality. Many Finnish people apply for master's programmes in English, which cannot and should not be stopped."
The most obvious way to increase the number of international students would be a drastic increase in study places in fields with the most demand.
"This is already needed because the same report says the share of highly educated people within the age groups should be increased. I am yet to hear any concrete promises about such a thing."
The same has been emphasised by trade unions in their responses to the report. If the number of international students is to be increased, more resources will be required by not only the universities but also e.g., licensing authorities and day-care services.
Immigration obstacles must be removed
But what if we simply must get more foreign students? Of course, one answer is to invest in English-language master's programmes and their associated marketing.
However, marketing does not just mean Facebook ads or YouTube videos.
"Generally, increasing international cooperation and various collaborative projects are a good way to increase the university's recognition", says Joanna Kumpula.
If we want more students to come to Finland, we must also look beyond the EU's borders. At that point, questions about facilitating immigration begin to emerge.
"Many young people in India and Pakistan, for example, would like to study in Finland. At the moment, it is almost impossible for them to gain a residence permit for their studies. Removing such bottlenecks would be crucial if we want to increase the allotment of foreign students", Kumpula says.
Work opportunities must also be emphasised
How, then, would Andrei Baraian increase the number of international students? He himself ended up in Oulu following an internship on a joint project between his Romanian university and the VTT Technical Research Centre of Finland. He has been satisfied with his choice.
"In terms of communication, I would emphasise the fact there are many businesses in Oulu along with the university. Many already think about employment during their master's studies, and it is not easy to find information about available jobs in the Oulu region, for example."
Text: Juha Merimaa
Photo: Teija Soini
English translation: Marko Saajanaho