This year the Fenix Collegium Award was presented in the spring general assembly, which was held online on 22 April, 2021. The award was established by TATTE in 2011, and it is awarded every two years. The aim of the award is to give recognition to members of the Tampere University community who represent its heart and soul.
The award is not based on merit in science, teaching or research, but simply on good collegiality, maintaining the spirit of the community, and peer support, or trust of co-workers. These qualities have became even more important in the context of the pandemic.
In previous years, the award has been presented to upcoming researchers, established teachers and senior professors. We thank all those who sent in nominations. This year, the award is presented to Education Specialist Teijo Räty. Teijo is a dedicated, versatile member of the academic and research community, and has often worked in the background to resolve issues and mend situations in a way that has not only helped his colleagues but has also inspired them to assist others.
According to Teijo's colleagues, he has created an atmosphere where the open and relaxed communication, peer-support and solidarity have helped colleagues endure through the difficult year of the pandemic. During the past year, Teijo has calmly led his colleagues through the technical systems-related challenges they have met, and he has always been ready to personally instruct others providing them the hope that together, we prevail, and no one has to manage the challenges on their own.
We also wish to recognize a close runner-up in the nominations: Prof. Arto Laitinen for the collegiality he has shown to the university community.
TATTE and the Fenix Collegium Award committee wish to recognize Teijo by presenting him the Fenix Collegium Award 2021. The award comprises of 1,000 euros, which Teijo can choose to use in any way he deems most helpful in supporting the wellbeing of the University community. The award itself is an art piece designed by the visual artist Mikko Tapio.
Our warmest congratulations!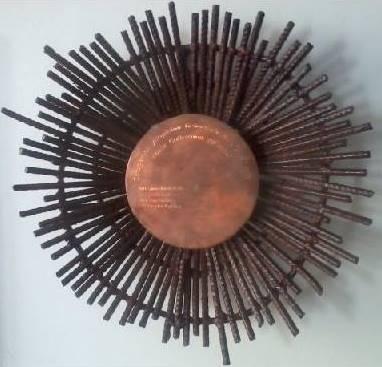 The Fenix Collegium Award designed by visual artist Mikko Tapio.