In 2022, Jytte's actions have focused on sustainability. We have approached the theme from the perspectives of ecological and structural sustainability, which have brought to the fore issues around the effects of academic work on the climate and nature as well as themes related to parity and accessibility. This blog post will focus more directly on wellbeing at work, social sustainability, and solidarity. The text is linked to the Solidarity & Social Sustainability Lounge event, which will be held on 10 January 2023.
The academia in the global west in the 2020s is also a neoliberal institution that refuses to commit to its employees and their wellbeing and has a work culture defined by economic precarity and fixed-term contracts. This work culture can also be defined 'burnout culture' with an obsession on individual achievements. Historically, the academia is a host to an inequal work culture in which opportunities and wellbeing are negatively affected by numerous intersectional factors built into social structures and academic institutions. It is therefore important to note that although the recent pandemic has increased discussion around the wellbeing of employees and the need for support networks in a range of sectors (see TTL 2020), the challenges to wellbeing in the academia result from long-term developments that predate the pandemic. Instead of simply focusing on coping, it is essential to talk about the social sustainability of universities on a much broader scale, and to pay attention to the ways that academic work culture and the university as an institution negatively affect the wellbeing of its employees.
Such issues are hardly new in either the public discourse or the coffee table talk on academic work. Burnout and recovery from work are common and familiar topics not just within the academic context but in discussions on neoliberal work in general. In the Hyvinvointia työstä 2030-luvulla ("Well-being through work in the 2030s") report, the Finnish Institute of Occupational Health calls for workplaces to tackle the "unhealthy performance-focused work culture and the ways of working that constantly disrupt sleep-patterns" (2020, 16), issues that are commonplace in the academia.
In what follows, we will discuss ways of challenging the sort of academic work culture that maintains inequalities and makes people ill as well as ways of making the academia more socially sustainable through solidarity.
Neoliberal university and wellbeing
Whilst we are writing this text within an academic context, and specifically from positions focused on research, we are aware of the nuances around wellbeing at work and the futility of looking for universal solutions. Thus, in addition to the well-known challenges to wellbeing at work, we must trace specific challenges to their root causes and identify the problems inherent to the most suggested solutions.
The fragmentary and disjointed nature of academic work is at least as important a cause for the prevalence of burnout culture than the amount of it. This kind of work cannot be done over time with the peace of mind that our brains require. Problems commonly raised in discourses around academic work include, for instance, the teaching required from researchers and the research required from teachers, admin, and the realities around seeking funding. The interminable chain of projects will not let anyone focus on a topic but requires juggling a range of things and digesting new issues as often as every six months.
Nor is burnout culture caused simply by economic and structural issues. It is essentially linked to the understanding of academic work as a vocation. Enthusiasm and excitement, which Eeva Jokinen and Juhana Venäläinen (2015) have defined as affective processes underpinning precarious labour markets and which drive many researchers, also lead to an excess of hyperactivity that can be as damaging to our bodies as the better-known stress.
Considering that the structures are maintained by individuals, unsustainable and inequal work culture is also bolstered by (us?) career-focused overperformers, but it is difficult to blame individuals for helping maintain inhuman models when nothing less feels sufficient. It is difficult to allow oneself rest, peace, or the experience of boredom – or whatever one needs to recover from stress or excitement – in a work culture where you can never be certain of your own future, and where you are constantly evaluated by funders and a range of institutional panels. Therefore, asking someone to take leave of absence or lower their standards cannot be the solution.
As the aforementioned indicates, the causes and effects of unsustainable work culture are both structural and personal. Therefore, solutions must also tackle both structural issues and the challenges academics face in their everyday lives. In this text, we will discuss the possibilities of change from the union's perspective on three levels. On the first level are the so-called macro-level actors, such as Akava or FUURT, that often remain faceless and seek to fix sustainability-related structural problems on a national level. On the second level are the critical actors who work on practical issues of academic work. This group comprises Jytte activists, academic role models, and researchers of the field. And on the third, and possibly the most important, level are the everyday heroes who labour under these conditions and who are ultimately in charge of the realisation of solidarity in academic work.
Unions deconstruct and change structures
The stereotypical main jobs of trade unions are collective bargaining and troubleshooting work-related issues, but it is true that in an era coloured by precarious work, trade unions must do more than just fight for equal pay. Trade unionism that is based on the labour movement is built on solidarity. It emphasises collective responsibility, volunteering, and communality. Our era is also defined by an awakening to the role academic institutions play in creating and maintaining structural inequality on both global and national levels. Solidarity and the social sustainability of work are highlighted in the work of academic unions in several ways.
One concrete dimension of solidarity and sustainability has to do with the physical and emotional wellbeing of academic workers. As a part of its parliamentary election campaign, Akava is lobbying for a wellbeing reform that seeks to extend occupational healthcare to cover non-permanent staff such as grant-funded researchers and freelancers, to incorporate psychophysical wellbeing into occupational health and safety legislation, and to create new, concrete tools for dealing with the issues related to remote working. A legal reform would also give unions concrete tools to tackle the harassment of their members. This would include right of action and the criminalisation of hate speech.
FUURT has paid a lot of attention to the psychophysical wellbeing of its members. The psychological resilience of academics is constantly tested – partly because research includes looking for the borders of one's own knowledge and understanding. Combined with precarious funding, permanent state of competition, and unsustainable workloads, the whole is often too much for individuals to bear. For example, the Finnish Institute of Occupational Health emphasises the importance of "strengthening the psychological safety and its supporting structures" (19) for the wellbeing of working age people, which is why FUURT has made it a priority in its activities.
In addition to the feeling of safety, we also need concrete means for improving the ways to protect our free time and recovery from work. For example, the annual workload negotiated as part of the collective bargaining gives academics a lot of freedom but the lack of fixed hours in a system based on quantitatively assessed performances can lead into an uncontrolled spiral of exhaustion. Limiting working hours or nominally easing an employee's duties will not help in a situation where their evaluation is based on quantitative assessments and their collection of individual merits.
In addition to the workplace, the wellbeing of academics is affected by the challenges related to combining work and free time. One of the biggest achievements of FUURT in 2022 has been the inclusion of family leave reform in the collective agreement. Academics have been at the forefront in the issue and so far, theirs is the only agreement to include it. Nevertheless, care-related pressures form only a small part of the issue academics face. We need to ask what solidarity means in the academia and in the activities of the trade unions in the 2020s? Who should bear the burden of wellbeing in academic workplaces?
Solidarity and symbols – on the frontlines for common issues
The title of the text refers to a fight for solidarity and socially more sustainable university. The bellicose metaphor highlights the meaning of identifying shared goals and the symbolic value frontliners hold in the fight for them. Naming solidarity and social sustainability, instead, reminds that the unfortunate responsibility for change within structures that make us ill is a shared one.
Role models and examples are provided by the above-mentioned unions and their local branches. For example, the board plays an important role at the frontline in local battles. But a lot of work is also being done through research and publishing. The work of Academy Research Fellow Hanna Kuusela, who won the 2021 Tutkijaliitto award and heads the Parempi yliopisto ("Better university") research project, has revealed a number of issues related to academic work. Additionally, softer academic world has been called for by several feminist researchers who have popularised the need for more humane and respectful academic evaluation processes (e.g., Saresma, Harjunen & Karkulehto 2022).
The union has sought to highlight the everyday experiences of researchers and the wide range of activists working for the cause. One form of a thank-you for role models is FUURT's Academic of the Year award. In 2021, it was awarded to Tapio Määttä, the Academic Rector of the University of Eastern Finland, for his work on academic leadership. Recipient of the 2022 award is Tuija Saresma, lecturer at the University of Jyväskylä, for her work on hate speech and as an active participant in social discourse.
Researchers like Saresma who specialise in hot potatoes also highlight the difficulties frontliners face (see Kosonen et.al. 2022). Giving your face, name, and voice to politically charged issues often leads into the personification of the topic – and its criticism. That is one of the reasons why our common causes should never depend on individuals and why solutions warrant comprehensive change of attitudes. FUURT and Jytte can offer a platform for demanding rights, but anyone can assume the role of the hero. As we want to argue, achieving sustainable change does not require individuals. Instead, it requires a well-motivated army of everyday heroes fighting for our common causes. In this text, we want to call them the heroes of Jytte, but it should be noted that heroism of this sort is available to everyone, regardless of whether they are members of a union.
"Release your inner hero of Jytte": what does heroism mean in light of social sustainability and solidarity?
What might the academia of softer values look like? How about a union working in such context? Does talking about values and solidarity, as we have done throughout this text, already mean putting too much responsibility on the individual? We would like everyone to look at individuals holistically, as part of their communities, and through intersectional glasses.
What sort of a character would this sort of hero be like, then? A relentless toiler, a steady shoulder to lean on, or perhaps a loud fighter unafraid to climb on the barricades on behalf of his or her colleagues? While these sorts of archetypal characters are easy to identify with, they can also be problematic. They all limit and essentialise the concept of a hero, although it should be opened and expanded to include the sort of characters that are much closer to our everyday life. Since we are all in slightly different situations and our resources vary, sometimes changing on a day-to-day basis, there is no point in trying to create universal idols, goals or tools that would be applicable in any situation.
If we look at heroism through the work carried out in Jytte, this work, that is often idealised as heroic and altruistic, is mostly done in our free time. There is as much work to do as we have time and resources for, and there are no quick and easy rewards. Some colleagues often wonder how we find energy for this after a full day at work. Defining heroism through this sort of altruistic plodding is dangerous: if we let endurance become the defining characteristic of heroism, it will be all too easy to forget wellbeing. We may end up in a situation where performing the archetypal everyday heroism becomes our top priority and we forget to look after ourselves.
It can also lead to a situation, where at least as many colleagues shake their heads on the sidelines, horrified by the way these individuals fill their free time with activism and neglect rest. This sort of unconscious formation of roles can easily lead into the dissolution of solidarity on the practical level by creating divisions between doers and followers, overachieving performers of heroism and those who acknowledge that they also need time to unwind and relax.
For this reason, we want our members to stop and rethink the nature of heroism. The only ways to change the existing structures is by identifying problems and trying to fix them, but this sort of activity can be conducted on every possible level. It is important that "mundane" things such as looking after others and addressing issues affecting our immediate work surroundings would be thought of as highly as participating in negotiations over the collective agreement. And to acknowledge that being heroic does not require that one exceeds expectations every day. Work for the common good will never end so the most solidary thing would be to appreciate the effort people are willing and able to provide. Expanded like this, a hero would be like an empty vessel that we can fill to the best of our ability and only when we have the resources to do so. This would allow us to increase solidarity across the whole academic community.
Allowing anyone and everyone to be a hero, it is important to note that the sustainable nurturing of solidarity and social (or other) sustainability means increasing accessibility and doing away with perfectionism. Whether it is activism, highlighting structural issues, working for equality, or reducing your personal carbon footprint, the aim is not to be perfect but to do something – within the limits of our capacity and skills. When the power lies within the community, even the smallest acts by individuals are important, and when the whole community is looking after our common wellbeing, with no fear of underperformance, we will all end up winning.
What even is the Solidarity & Social Sustainability Lounge?
It is difficult to solve the problems described in this text over one afternoon, or even over decades, but Jytte wants to dedicate a small moment for solidarity and social sustainability by organising a small event on Tuesday 10 January 2023. The so-called Solidarity & Social Sustainability Lounge will take place at the University Library Lähde, in the Tietoniekka space from 10am until 2pm.
The aim is both to offer all members of the university community a chance to take a small break and to meet and greet some members of Jytte. You will have a chance to meet Johanna Turunen, the chair of Jytte, Matti Leppäniemi, the chief shop steward of JYU for 2023, Olli-Pekka Moisio, Jytte's representative in the University Board, and other Jytte activists. Whether you want to discuss the collective agreement, HE politics, challenges of academic work, or career paths, or even if you just want peer-support or someone to have a coffee with, we are there for you!
Since the aim is rather to facilitate encounters than provide a program, you can just drop in when you have the chance, chat about things you are interested in or worried about, and get yourself a brand-new Jytte-hero sticker (drawn by the lovely Sirpa Varis). In the adjacent Taitoniekka space, you can get a quick neck and shoulder massage from a professional massager. We are hoping to see you in January! Until then, let us look after ourselves and each other.
Post Scriptum: This text was authored by the anonymous kraken, anteater, and badger (or Heidi Kosonen, Pekka Pietilä, and Johanna Turunen). It took one day, after two months of procrastination and self-care. Later, the anonymous anteater chose stretching and incense instead of editing the text. We hope our readers are also able to enjoy similar moments of lowered standards!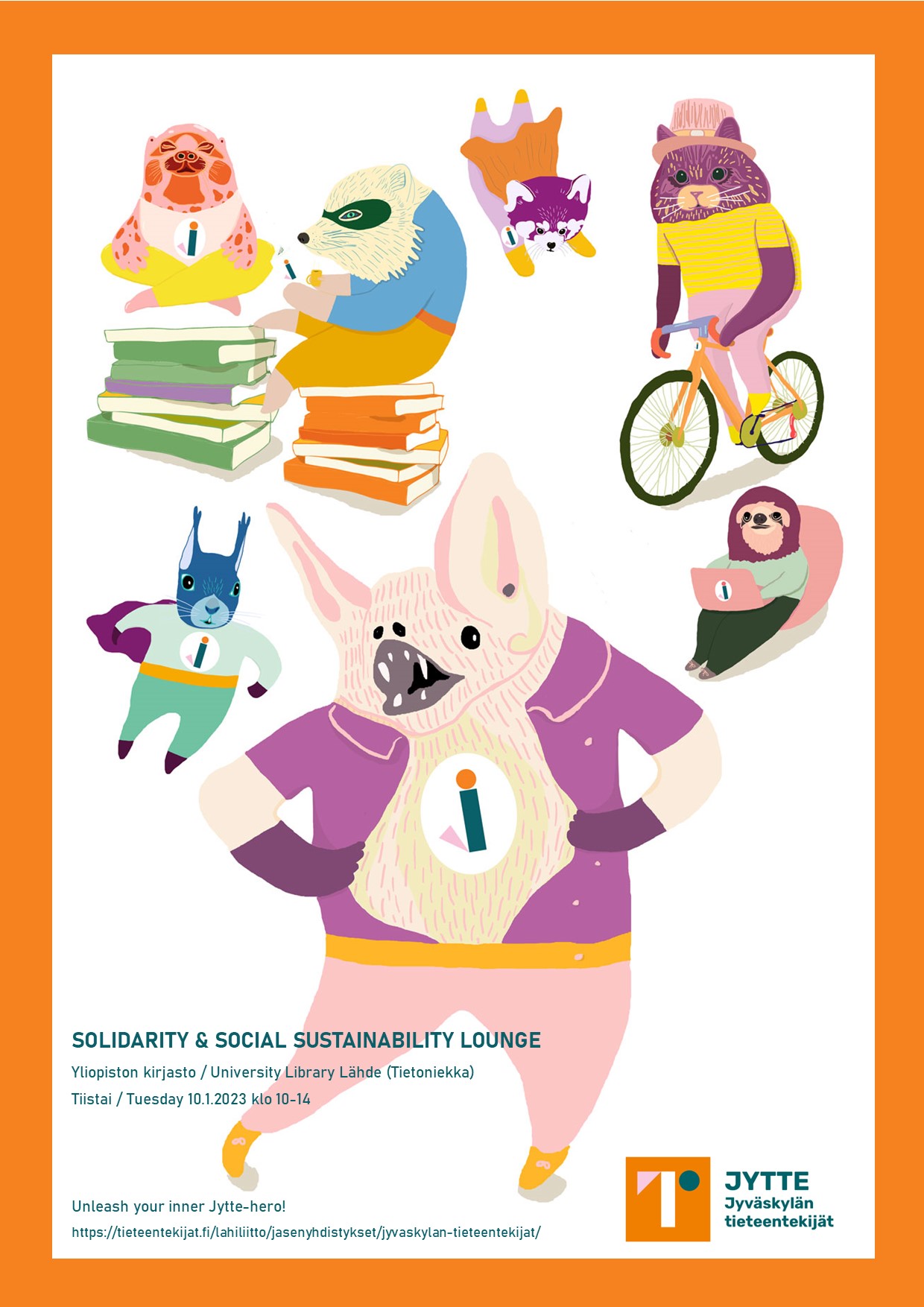 Written by:


Heidi Kosonen, Jytte's communications officer and a post-doctoral researcher (the Department of Music, Art and Culture Studies)
Pekka Pietilä, Jytte's treasurer and a doctoral researcher at the Department of History and Ethnology

Johanna Turunen,Jytte's chair and a post-doctoral researcher (the Department of Music, Art and Culture Studies)