In the spring of 2021, Tatte ry will present the traditional Fenix ​​Collegium prize. Due to a technical error we kindly request that the proposals be sent again and to the address below. Nominations are accepted until midday on Friday, 16 April 2021.
Do you value your co-workers ability to consider others and collaborate? Do you admire their dedication and ability to build an inspiring atmosphere in the workplace? Is there a researcher or teacher in your work community who knows how to encourage others? Is there a co-worker in your work community who supports others and inspires others in their work? If you recognize your colleague from the description, then nominate them for the Fenix ​​Collegium Award!
The Fenix ​​Collegium Award was established by Tatte ry in 2011 and is awarded every two years. The aim of the award is to give recognition to scientists at the Tampere University who are the pillars of their own work community. The award is not based on merit in science or teaching, but simply on good cooperation; maintaining a good spirit in one's own work community, peer support or trust for co-workers, practical day-to-day co-operation and solidarity in the current difficult times of COVID-19.
Any researcher or teacher at the University of Tampere can be nominated for the award; salaried researchers, grant researcher or postgraduate researchers, docents or dissertation authors. The proposed person does not have to be a member of Tatte ry.
The following people have received the award in the previous years:
Sanna Raudaskoski (2011), Tarja Aaltonen (2012), Elias Pekkola (2013), Lina van Aerschot (2015) and Yulia Shumilova (2017). The last time the 2019 award was won was by Veli-Matti Värri.
The prize is 1,000 euros, which will be donated and used to promote the well-being of the recipient's work community. The winner will decide how the money is used. The award also includes a circular award made by the visual artist Mikko Tapio, in which the name of the recipient of the award will be engraved. The winner will be announced and the prize will be presented at the Tatte Spring Meeting on Thursday, 22 April, 2021.
A candidate for the competition can enter at least three co-workers of a good colleague, at least one of whom should be a member of Tatte. Proposals with a justification of no more than one page should be sent to ahmed.farooq@tuni.fi by noon of Friday, 16 April.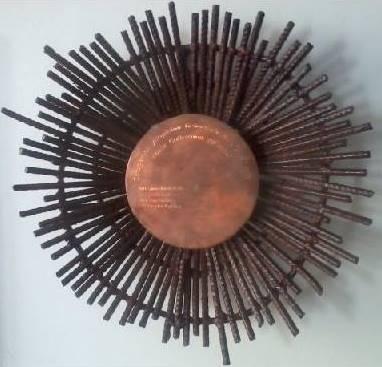 The Fenix Collegium Award has been designed by the visual artist Mikko Tapio.