The pandemic has affected library work on every sector, and university libraries have had to employ special measures to ensure that students and staff retain access to information and services. The acquisition, circulation, and management especially of printed material have required rapid adaptation to new situations. Teaching and other support services offered by the library have moved online as is the case with the rest of the university. Not all library work is directly and immediately visible to the customers, so what follows is a brief overview of what has taken place in the Open Science Centre, between the stacks, during the ongoing state of exception.
Like most university activities, the library work at the Open Science Centre was quickly adapted to the Covid-era at the beginning of the pandemic in March. In practice, the tasks were divided into those done entirely remotely and the so-called hybrid ones that were done at least partially on site. As one might expect, tasks that already utilised online platforms and technical aids were relatively easy to move online and do remotely compared to the ones dealing with printed material and requiring face-to-face customer service. The changing situation with the virus has repeatedly forced us back to the drawing board, but the aim has always been to ensure the availability of different services and materials so that the customers can resume their work without interruptions. Some of the changes are just temporary attempts to adapt to the exceptional circumstances, while others may remain in use in the future.
Behind the masks at face-to-face service points
At the beginning of the Covid-era, the library was already operating in a state of exception since the renovation of the B building had made both customers and staff to change their ways of approaching both the site and the services. Still, in the late winter significant changes needed to be made to the ways printed material was circulated in as safe a way as possible. During the spring, library staff retrieved requested items from the Ylistö and Mattilanniemi libraries and the Kanavuori research reserve and delivered them to the collection point in the vestibule of the Mattilanniemi library. Transforming self-service into a takeaway service required rethinking logistics, workflows, and workloads as customer assistance provision was suddenly replaced by book parcel creation. The number of people allowed into the building at one time was limited for safety reasons and adapting the takeaway service into the constantly changing situation meant that librarians were often pressed on time. The feedback has been constructive and overall positive.
Customer services communicated changes on a specific Corona Situation webpage providing customers with all the material and help they needed. Remote assistance has been put to effective use: the library has received more emails, calls, and messages through the JYKDOK webchat than before. Due to the epidemiological situation, these also remain the recommended means of communication and customers seem to consider them a practical way to contact the library. This autumn, library cards have been ordered online while bulletins and an online course have introduced library services to new students and staff members. Some of these practices are expected to be made permanent. Delivering theses electronically is an already established practice and we have seen an increase in order numbers.
Little by little the physical Covid-19 restrictions have been lifted. In the summer, customers could pre-book to visit the library: initially the number of visitors was closely monitored for safety reasons, but pre-booking made everything run smoothly. In August, the doors were opened more widely, allowing the library to be open for customers with the same measures that were already implemented in shops: service desks are protected by plexiglass and the staff wears face masks. Currently, customers are also asked to wear masks.
E-materials to complement printed materials
The acquisition of printed material and preparing it for circulation is a part of collection management. Sometimes book deliveries fill entire roll containers and having to physically sort and process them takes time. Books need to be catalogued in JYKDOK: in addition to the basic bibliographic data, keywords are added to records, making them easier to find. Books will also receive physical markings such as barcodes and call numbers. During the pandemic, new printed material has been processed with a delay while electronic material has been prioritised.
More electronic material has been acquired than in previous years and their circulation figures have risen: the material has been discovered and used. Large international publishers are particularly keen to expand their catalogue of electronic material, which affected acquisition policies already before the pandemic and will continue to do so in the future. The ability to access electronic material remotely has also been of help to customers who live further afield. In addition to the pandemic, the increase in e-book acquisitions has been driven by curricular changes. Nevertheless, the following table shows that the pandemic has also led people to specifically request e-books.
E-book acquisitions between March and May in 2019 and 2020
2019
2020
General collection
132 e-books
140 e-books, of which 20 were Covid-19 requests
Course material
5 e-books
202 e-books, of which 23 were Covid-19 requests
Departmental acquisitions
0 e-books
3 e-books
Remote support, teaching, and planning
The library consults and teaches the research and teaching staff in data acquisition, and provides training on e.g., publishing, data management, and profile raising. Examples are the Open Science online course for doctoral students and the modules on information seeking and data management for undergraduates. Like the rest of the university, the library moved its teaching online in the spring. Information seeking is a familiar feature of undergraduate seminars, and in late spring the module quickly moved online, mainly on Zoom. The experience gained during the spring has been used during the teaching-heavy autumn. The spring term saw a significant increase in student numbers on research modules, although hybrid versions of the courses have been available for several years. Courses and teaching visits have resumed in the new academic year, although the mode of teaching is new.
Like elsewhere in the university, completing the digital leap has taken some time and now that the emphasis is on online pedagogy instead of on in-person teaching, we have faced entirely new challenges. Many of the courses offered by the library include exercises that involve online environments and databases. We are used to having students do these exercises in computer suites where they can receive personal assistance. This is more difficult to provide online as the number of attendants can be significantly larger and the nature of the interaction between the teacher and the participants is different. In the classroom, it is easy to see when a student is struggling with an exercise, but in online teaching it is more important to get them to ask questions. New students may feel uncomfortable with asking questions in front of their peers, even when encouraged by their teachers to do so. If the topic is completely new, students may also find it difficult to identify the situations they need help with. In such cases, we have used screen sharing and breakout rooms so that students can approach the teacher privately.
With many other aspects of research support, it is business as usual, although the employees are either working remotely or sharing their time between the home and the office. Recording publication data in Converis, metrics, data management support, and publishing services are mostly done remotely. The workload for these jobs has not changed significantly. Doctoral dissertations have been completed, although some doctoral candidates have postponed their vivas to later in the year, and publications and research data are produced despite the challenges to data collection.
The pandemic has not stopped planning and results will be coming out also this autumn. These include new data and publishing policies as well as a new infrastructure to support researchers. The developments aim to support information seeking and, for example, describing research material. A new research data tool for Converis is to be launched in October. This tool helps researchers create the metadata for their research data, for example, by helping them with issues related to description-writing, keywords, licensing, author information, and data privacy. The tool is primarily an aid that also provides researchers with an uncomplicated way to contact information specialists and the data protection officer.
Virtual ways to collaborate
Lot of the work done in the Open Science Centre includes active cooperation within the University as well as in wider national and international networks. Materials and databases are obtained through national cooperation; metadata and the description of material are discussed with other higher education libraries; research publishing and information literacy is promoted; and tools for collecting publication information are developed collaboratively with other higher education libraries and the Ministry of Education and Culture in the TUHA network; international, field-specific working groups are participated in; and open science is planned and promoted in national expert groups. These connections have been transformed into the ubiquitous Zoom meetings and webinars, which are likely to replace business travel at least to some extent.
Remote working has led the staff of the Open Science Centre to face challenges that are likely to be familiar to everyone at the university. Problems with tools, remote connections, ergonomics, interpreting instructions, communication, cooperation, career guidance, coping at work, and differentiating between work and free time have become inevitable. This is partly due to the changes in workloads as new practices have been created and adopted, which has inevitably caused workdays to stretch out. On the other hand, depending on the duties and the life situation, at least some employees have found the extended flexibility of remote working hours beneficial as it has made it easier to maintain a healthy work-life balance. Some university employees have had their job descriptions revised while others have started to consider the possibilities and challenges working under exceptional circumstances may have caused to their career development. Some staff members have been looking after their colleagues and encouraged informal communality, for example, by organising online get-togethers that all co-workers have been allowed to join.
Open science during and after the pandemic
During the pandemic, many customers, especially students and staff members, must have encountered the benefits of open science. Printed material required for research and study have been unusually difficult to get hold of, and restrictions have in some cases made travel impossible. The meaning of unrestricted access to publications, research and learning material, and the entire research culture has been clear when work has been conducted online without being restricted by opening hours or spaces. This is important in every field, but especially the multidisciplinary Covid-19 studies have benefited from the possibilities of open science when study results have been made rapidly available and large collaborative groups have been formed. A lot of support has been provided to teaching and research staff regarding these aspects of openness, which shows that earlier work on the topic has been worthwhile.
The aforementioned work on planning and infrastructure is expanding all the time as the practices of open science are reaching new fields. For example, open educational resources have been produced at the University of Jyväskylä for a long time and many teaching and learning practices also support openness, but now national cooperation on support services is being brought to help local teaching staff. Here, too, the library staff plays a significant role – and this will continue in the future when everything that has been planned is put to practice.
Overall, it is obvious that customers need support and guidance and the meaning of both has become clear during the pandemic. Many of the aforementioned online services will continue even after the pandemic when it is possible to start developing the technology further. Under these exceptional circumstances, it has become clear how important communication between the library and its customers as well as between staff members is – and how much need there still is for peer support and learning, and how important the communality connected to them is for an organisation.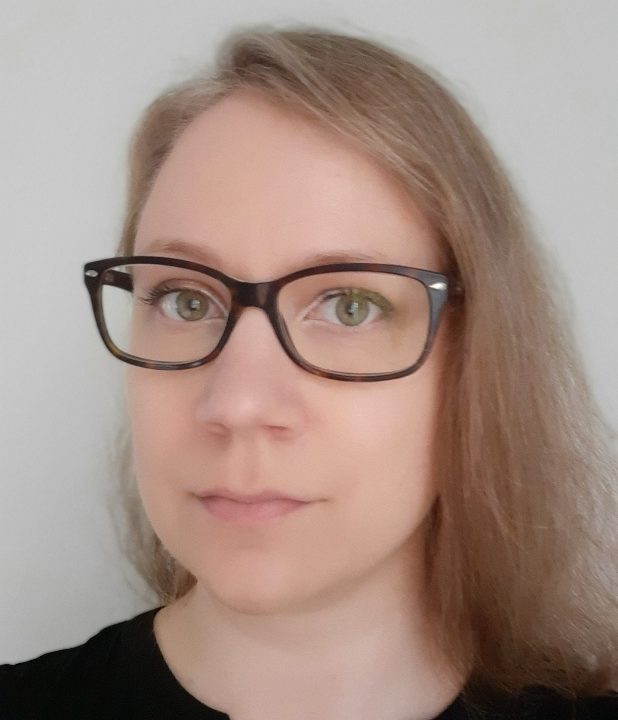 Marjo Vallittu
Information specialist, Open Science Centre, Library
The writer wishes to thank the team leaders of the Open Science Centre, Library for sharing their experiences and knowledge.