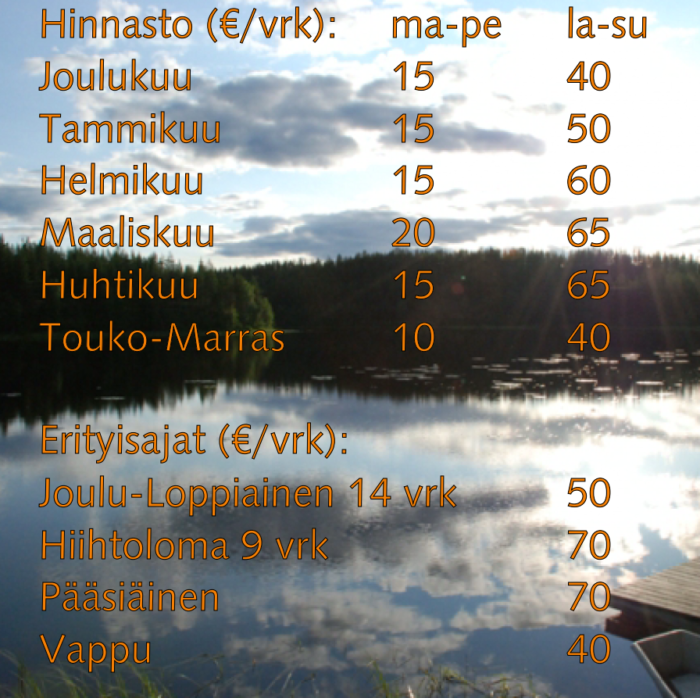 UOA owns a cabin near the Syöte Skiing resort, which all members can rent (payment info below). The cabin is suitable for both summer and winter activities, and has space for up to 10 people.
The Syöte Cabin is located next to the Ala-Huuhkanen lake, 11 km from the Iso-Syöte Skiing resort and 5 km from the Syöte Center. Pudasjärvi is 50 km away and Taivalkoski 440 km. The Syöte Cabin is about 50 m2 large pair house half, where there is a living room with a fireplace, two bedrooms, kitchen, sauna&washroom and 20m2 sized loft for sleeping. There is space for 10 people for sleeping. The cabin has all basic utilities, cutlery etc., you just need to bring your own bed linen and towels. There is also a rowboat available.
A Skiing route and mountain biking route start right next to the cottage, and there are lots of possibilities for hiking, cross-country skiing, downhill skiing, berry & mushroom picking and fishing.
The rent period (for example Saturday-Sunday) starts on Friday at 16.00 and ends on Sunday at 16.00. If you want to cancel your reservation, you have to inform about the cancellation no later than two weeks before the rent period. Payments can be found in the table (in Finnish). Reservations and information: Heidi Niemelä, 040 827 4741, heidi.niemela(at)oulu.fi. Reservation calendar:
https://outlook.office365.com/calendar/published/7d528243e99d46ae8298127afbb8ca3a@puru.oulu.fi/5500dc298baf41aa89b368fb02ac44446525971008154737774/calendar.html
Bank account
:
FI82 5741 3620 0868 32
Beneficary
: Oulun yliopiston akateemiset
Payment message
: [days hat you are staying and paying in the cabin]